[tps_header][article_ad_lb][/tps_header]
There's no doubt that Cardi B had one heck of a 2017. From her meteoric rise on the music charts, to a sweet proposal, and being the hilarious, down-to-earth, and no-holds-barred frontwoman many of us have come to love – it was definitely the year of Cardi B. Let's take a look back at what made her year so lit.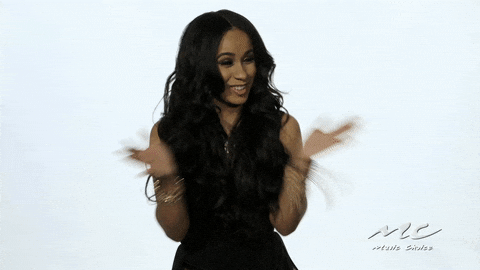 Photo: GIPHY
Her hit record-breaking song.
"Bodak Yellow" was the first single, single Lauryn Hill's 1998 hit "Doo Wop (That Thing)," to top the Billboard Hot 100 chart, without the aid of a feature. It has since gone triple platinum. Cardi is also one of only five female rappers to top the Billboard Hot 100 chart.
Her awards and nominations.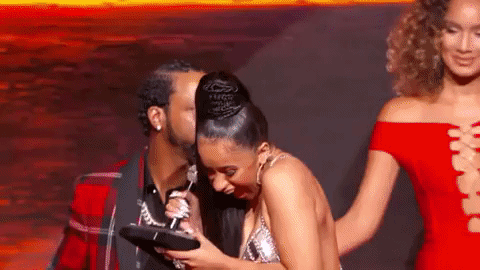 Photo: GIPHY
Cardi has been racking up the nominations and awards. She is up for two Grammys, and has won several awards, including Best New Hip Hop Artist and Single of the Year, at the BET Hip Hop Awards.
The Romantic Engagement
Success can feel sweeter when you have someone to share it with forevaa. On October 27, during Power 99's Powerhouse concert in Philadelphia, rapper Offset (from The Migos) proposed to Cardi on stage with an 8-carat dazzler.
Photo: Gossip On This
The Support of the People
There are endless videos of people getting down to "Bodak Yellow," and photo upon photo of those who want to show they are #TeamCardi.
The Cinderella Moment
Cardi proved she can go from the stage to the ballroom effortlessly when she attended Rihanna's Diamond Ball. She donned a regal, billowy, powder blue Christian Siriano gown that was both elegant and striking.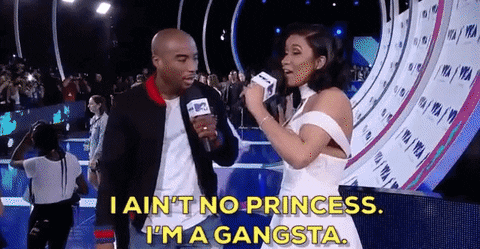 Photo: GIPHY
The Magazine Covers
When you're hot, you make it onto the covers of all the cool mags. Gracing the cover of Rolling Stone's Hot Issue was probably the biggest honor, but it's just one of several covers the rapper has already graced.
Her fearlessness in tackling social and political issues.
Cardi has made it clear that she stands with Kap and his fight against police brutality in the Black community.
"Colin Kaepernick, as long as you kneel with us, we're gonna be standing for you." – Cardi B (via @adelleplaton)pic.twitter.com/zNU7TcAbN7

— Andrés Tardio ✍🏽 📷 (@AndresWrites) August 28, 2017
She's also about that feminist life – but wants to make sure that it's not limited to the academics out there, but accessible for all women who are hustling and believe in equality between men and women.
Cardi is all about supporting women on their grind and one thing is for sure, she's got our continued support as she prepares to keep making her 'money moves' in 2018.
[tps_footer][article_ad][/tps_footer]