[article_ad_lb]
It's hard not to see why an icon like Beyoncé would have an almost cult-like following. She's more than just a music artist or a performer — she's a voice for a generation — in particular for women. But it's one thing to be a loyal and devoted fan — or even a member of the beyhive — and it's another thing to actually worship her like a god. Believe it or not, there are people who actually attended a church in San Francisco in honor of her but it's not as cray as it sounds. 
Listen, I get it. I'm a fan of Beyoncé myself. Maybe not to the cult level some folks take it but I do love and appreciate not just her music but the message she's been putting out there. I wasn't there but I heard her performance at Coachella was out of this world. The woman is practically a real life goddess — most of us are fully aware of that. It's no wonder, San Francisco's Grace Cathedral decided to take things to a whole other level using Bey as the focus for one of their special mass services. 
The service devoted to Beyoncé and her music was held last night on Wednesday, April 25 and included WAY more than just a few of her hits. After "worshippers" got to sing along to her songs, their was also discussion about Beyoncé's appeal to marginalized groups — black women in particular.
They even had a Beyoncé expert at the event. The Rev. Yolanda Norton who is also Assistant Professor of Old Testament at San Francisco Theology Seminary known for creating a course called "Beyoncé and the Hebrew Bible," apparently did the preaching last night.
There was a lot of hype along with controversy surrounding the event. The church's Rev. Dr. Malcolm Clemens Young even addressed it on Grace Cathedral's website.
"You may have noticed news reports about a special worship service that will be happening here next week with music and a message inspired by the popular singer Beyoncé. You may have heard criticisms from our fundamentalist brothers and sisters that Grace Cathedral worships Beyoncé rather than our Lord Jesus," he wrote.
Rev. Dr. Malcolm Clemens Young was quick to clear the mixups though. "For our April 25 Vine worship service, the Rev. Yolanda Norton Assistant Professor of Old Testament at San Francisco Theological Seminary, will be preaching. Rev. Norton created a "Beyoncé and the Hebrew Bible" class at the Seminary that draws on Beyoncé's music to raise awareness about the spiritual experience of Black women and the issues they face in our society … Your friends may ask you about this. You might want to remind them that God is in all the world and that Beyoncé is made in God's image. The church has not treated women of color fairly and it is time to face this truth."
Okay, I'll admit that after reading that any doubts I had regarding this contemporary mass/worship ceremony quickly went away. Don't get me wrong, I'm sure there were Beyoncé fans who attended this service because they literally see her like a god — I'm sure a lot of folks do. But Grace Cathedral's goal wasn't to encourage people to "worship her." The historic episcopal church is known for it's commitment to social justice and this special service was an attempt to highlight the experiences of young black women while also uplifting them. How can I even be mad at that?
"When we talk about womanist biblical interpretation, Beyoncé felt like a natural fit," Norton was reported saying. "If we look at the trajectory of her person and her relationships, we can see so many issues black women face and how it can affect how we interpret the text."
Reading from a speech by civil rights icon Ella Baker. Both the readers were black women. #BeyonceMass pic.twitter.com/sufprSIDMf

— Brandon Patterson (@myblackmindd) April 26, 2018
According to reports, around 900 people attended the Wednesday night service that typically only attracts around 50. That's a pretty drastic increase. Folks documented the experience on social — of course. You could see the lyrics to her songs were up on projectors like how you'd normally see worship song lyrics projected.
They have the lyrics to Beyoncé's songs on the projector. "Flaws and All." #BeyonceMass pic.twitter.com/etxchAp2Ca

— Brandon Patterson (@myblackmindd) April 26, 2018
The service program at #BeyonceMass pic.twitter.com/cLkaHDP0Eq

— Brandon Patterson (@myblackmindd) April 26, 2018
The preaching was pretty on point as it was way more political and feminist empowering than it even was spiritual.
Black feminist theologian Yolanda Norton delivers the sermon. She says Beyoncé's Coachella performance reminds us that sometimes you have to "sing your song your way." #BeyonceMass pic.twitter.com/7yhfGFt3MV

— Brandon Patterson (@myblackmindd) April 26, 2018
Personally, I think Grace Cathedral church should consider doing more Beyoncé services a.k.a #Beyoncemass. We can all use a little more Bey-empowerment in our lives — I'm just saying.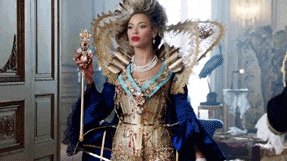 [article_ad]