Valentine's Day is right around the corner so it might be time to start figuring out who your own valentine will be. Sure, you could pick your significant other (or maybe a friend if you're single). You might even reminisce about former lovers. But we've got a list of potential valentines that beat whoever you're thinking of. Wouldn't it be something to get to spend the day with one of these incredible latinxs? Seriously, they all have my heart, and probably yours, too.
Gina Rodriguez
Who wouldn't have fun on a date with the Jane the Virgin star? You could chat about Chicago (where she grew up) or Carmen Sandiego (since she'll be voicing her in the new Netflix version). Even better, y'all could spend your date salsa dancing the night away. Seriously, she's got moves!
Cristela Alonzo
Funny lady Cristela Alonzo is guaranteed to make you laugh on a date. The Mexican-American comedian was also the voice of Cars 3's Cruz Ramirez, so maybe you can chat about how she managed to land that amazing flip at the end. That was a bad joke, we'll leave it to her to be funny.
Danny Trejo
Danny Trejo is equal parts intimidating and cuddly. He's the badass with the heart of gold (seriously, he was in a movie called Bad Ass). Maybe you can convince him to take you on a tour of his incredible restaurant empire for Valentine's. Trejo tacos and donuts, anyone?
Aubrey Plaza
The current reigning queen of deadpan comedy, choose Aubrey Plaza to be your Valentine if your idea of the perfect date is making fun of everyone. Alternatively, you could get stoned and watch Parks and Rec re-runs. #dreamdate
Oscar Isaac
https://giphy.com/gifs/oscar-isaac-uO52T892DPpEk
Guatemalan-American Oscar Isaac is the Internet's boyfriend these days. The Star Wars actor might not make for the best date right now though since he's got a baby at home. But maybe if you ask nicely, he'll play you one of the songs he used to sing with his old ska band, The Blinking Underdogs.
Demian Bichir
https://giphy.com/gifs/transparent-red-serious-jkkDezeDny1Da
Regal and handsome, Mexican actor Demian Bichir is another excellent candidate for your Valentine this year. Split a bottle of tequila with this caballero and spend a romantic evening kicking back with some telenovelas.
Melonie Diaz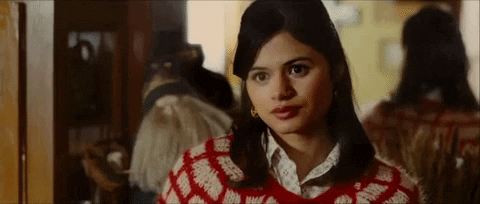 This understated actress has been in a ton of movies and TV shows (A Guide to Recognizing Your Saints, Fruitvale Station, Girls), but I remember her best from Itty Bitty Titty Committee, where she played a badass queer latina feminist. She would be a great Valentine who would totally watch Black Panther with you.