News and Entertainment
33 Amazing Afro-Latinxs You Should Know
February is Black History Month. While we love to celebrate black excellence all year long, this is a special time to shout out Afro-Latinxs who have repped for the culture and accomplished and achieved so much in their given fields. We believe their praises should be sung much louder. In an effort to make sure
February is Black History Month. While we love to celebrate black excellence all year long, this is a special time to shout out Afro-Latinxs who have repped for the culture and accomplished and achieved so much in their given fields. We believe their praises should be sung much louder. In an effort to make sure that happens, while showing our deep appreciation for their contributions to society, here we share 25 amazingly talented, and important Afro-Latinxs you should know about — if you don't already!
Celia Cruz
It's been 17 years since Celia Cruz passed, but her music lives on & she'll forever be the Queen of Salsa! ¡Azúcar! pic.twitter.com/R6Gbs9bQSF

— eSé (@Bayunkada) July 16, 2020
Celia Cruz accomplished so much, it's actually hard to cover it all. That is probably why she got an entire telenovela dedicated to her life! She is La Reina de la Salsa and some of her achievements include winning three Grammys (plus a Grammy Lifetime Achievement Award) and four Latin Grammys, recording 23 gold records, and receiving the National Medal of Arts and three honorary doctorates. And of course, her style made her unforgettable on its own. She was known for wearing wigs in all colors of the rainbow, heelless heels, bedazzled caftans and Bata Cubanas (Cuban Rumba dresses) with ruffles for days. These were Celia's signatures.
Tego Calderon
https://www.instagram.com/p/BvcAbUAgk4_/
A lot of musical genres — if not all of them — started with Black music and Black roots. Reggaeton's roots can be traced back to Jamaica (Jamaican reggae and later Jamaican dancehall) and Panama before the music traveled to Puerto Rico, and beyond. One of the OG's of the genre is Tego Calderon. The Afro-Puerto Rican Latin Grammy and ASCAP Latin Music Award winner has had several hits, including "Intro Los 12 Discipulos," "Amigo Mio," and "Masucamba."
Rico Nasty
A lot of rappers get their start by creating and releasing indie mixtapes. Such is the case for Maria-Cecilia Simone Kelly, a.k.a Rico Nasty. The Afro-Latinx has released several mixtapes — Summer's Eve (2014), The Rico Story (2016), Sugar Trap (2016), Tales of Tacobella (2017), Sugar Trap 2 (2017), Nasty (2018), and Anger Management (2019) —which have led to her becoming signed by Atlantic Records. And with a following that includes 1.3 million Instagram followers, Rico Nasty is only getting started.
Bruno Mars
Bruno Mars has had seven number one hits, 16 top 10 songs, 24 songs on Billboard's Hot 100 chart. 27 Grammy nominations, and 11 wins. Born Peter Gene Hernandez, the Honolulu native is Filipino and Spanish, from his mother's side, and Puerto Rican and Jewish (from Ukraine and Hungary) on his father's side. There have been rumors that he changed his last name to hide the fact that he's Puerto Rican but the music artist set the record straight back in 2017.
"I never once said I changed my last name to hide the fact that I'm Puerto Rican. Why would I f**king say that?" He told Latina magazine in an exclusive interview. "Who are you fooling? And why would anyone say that? That's so insulting to me, to my family. That's ridiculous. My last name is Hernandez. My father is Pedrito Hernandez, and he's a Puerto Rican pimp. There's no denying that."
Sammy Davis Jr.
A member of the legendary Rat Pack, and one of the best entertainers of all time, Sammy Davis Jr. is a major source of POC orgullo. But you can also include Afro-Latinx and Latinx orgullo on top of that because the actor, comedian, and dancer is Latino! Sammy's mother was Afro-Cuban (although he often said he was Puerto Rican due to anti-Cuban sentiments at the time).
Don Omar
https://www.pinterest.com/pin/188377196900524472/
https://www.instagram.com/p/B8l6OZUFRjI/
Many consider Afro-Puerto Rican rapper Don Omar the King of Reggaeton. In fact, his tour with Daddy Yankee was called The Kingdom Tour. His nicknames include El Rey and King of Kings of Reggaeton Music. When reggaeton blew up in the U.S. during the '00s, Don Omar was at the forefront, and ever since, he has dropped several hits, including "Dile," "Reggaeton Latino," "Dutty Love," and "Danza Kaduro." He has recently found himself in conflicts though after making very homophobic statements about reggaeton artist Ozuna last year.
Rafaela Silva
Gold for Rafaela Silva (BRA) 🇧🇷 as Judoka Looks to Inspire Brazilian Youth: https://t.co/i4lKdz3os4#mwgwuhan2019 #CISM #China #militaryathletes #judo #Brazil @Judo pic.twitter.com/FnRQXLAKwD

— CISM (@CISM_HQ) October 20, 2019
Brazilian joduka Rafaela Lopes Silva won the gold model at the 2016 Rio Olympics, in the women's 57 kg division. This was Brazil's first gold medal ever. Her victory was especially inspiring considering she'd thought about quitting judo after receiving many racist comments online after the 2012 London Olympics. Fortunately, she stayed committed to the sport and showed the haters what a winner looks like.
Jean-Michel Basquiat
Artists see things through their own individual filter, made up of taste, technique, life experience, and perception. Their art is deeply personal and an extension of how different they really are. Afro-Puerto Rican Jean-Michel Basquiat's art took the world by storm due to its uniqueness — it's style, messages, and influences. There's a lesson here: although it is tempting for artists to copy another's well-received art, it's what sets you apart and how only you can express that, that makes for the best art you can possibly create. And, it pays off; Jean-Michel Basquiat did something that no other artist in America has done — sell a painting ("Untitled") for $110.5 million.
Lineisy Montero
Lineisy Montero Feliz is among the new class of Latina models to rep for the culture. The Afro-Dominican has already modeled for brands like Balmain, Elie Saab, Louis Vuitton, Christian Dior, Lanvin, Givenchy, and Chanel — she's only 23! She also debuted as an exclusive model for Prada.
Lola Falana
Afro-Cuban Lola Falana became a big entertainer, beginning in the 1960s. She acted on TV and Broadway (and earned a Tony nomination), had her own variety show on television (Lola!), and starred in a Las Vegas act which paid her $100,000 a week during the 1970s. She became known as the First Lady or Queen of Las Vegas.
Jharrel Jerome
Jharrel Jerome has been making his mark in the acting world, starring in the Academy Award Best Picture-winning film, Moonlight, and receiving both a Golden Globe Award for Outstanding Lead Actor in a Limited Series or Movie and a Critics' Choice Television Award for Best Actor in a Movie/Miniseries for his role in When They See Us.  But did you know that the Bronx native is also a proud Afro-Dominican?
Swizz Beatz
Next up on our list of successful and inspiring Afro-Latinxs is super-producer Swizz Beatz. Also known as Kaseem Dean, the also rapper, entrepreneur, and DJ has produced such big hits as T.I.'s "Bring 'Em Out," and Jay-Z's "On to the Next One." And he's Afro-Latinx! His mother is Puerto Rican, Afro-Jamaican, and Irish.
Trina
With over 20 years in the rap game, six albums (including her latest, The One), eight hits on Billboard's Hot 100, and a starring role on Love & Hip Hop: Miami, Trina has made a name for herself as one of the biggest female rappers of all time. But did you know the Miami-native is Afro-Latinx? Yes! Trina is Dominican, from her father's side.
Joan Smalls
https://www.pinterest.com/pin/730920214511714397/
Puerto Rican model Joan Smalls (Born Joan Smalls Rodriguez) is an Afro-Latina who was one of the highest-paid models of 2016, and the first Latina face of Estee Lauder. Joan has been on several covers of Vogue around the world; this is her sole US Vogue cover (August 2014).
Reggie Jackson
Afro-Puerto Rican baseball player Reggie Jackson (born Reginald Martinez Jackson and nicknamed Mr. October) played in the major leagues, for the A's, the Yankees, the Orioles, and the Angels. He has been inducted into the Baseball Hall of Fame and the Athletics Hall of Fame. He has also won a World Series five times and has had his number (44) retired by both the A's and the Yankees.
Roberto Clemente
Afro-Puerto Rican Roberto Clemente was a great baseball player. He was the first Latino and Caribbean player to be inducted into the National Baseball Hall of Fame, won the Gold Glove Award 12 seasons in a row, and was a World Series MVP. He also was a hero. Clemente died in a plane crash while heading to Nicaragua to provide aid to the country after an earthquake.
Members of the Mean Machine
mean machine – disco dream '81http://t.co/c1Cp19bOgt#thisisoldskool

mr. schick, jimmy mac, cool cliff, dj julio pic.twitter.com/iU6oggqBnR

— oldskool (@thisisoldskool) January 25, 2014
The Mean Machine has the distinction of being one of the first bilingual rap groups ever, and possibly the first Latino rap group, rapping in both English and Spanish. The Puerto Rican group made up of Mr. Schick (Daniel Rivera), DJ Julio (Steven Santiago), Mr. Nice (Jose Semprit), and Jimmy Mac (James Mclean). The final lineup in 1979, released the first Spanglish rap song ever, 1981's "Disco Dream."
Sarunas Jackson
Afro-Panamanian actor Sarunas Jackson made it a point to ask the writers of the show Insecure to make his character, Dro, Panamanian. This was a win for Afro-Latinxs and Latinxs everywhere, as it brings more visibility to Afro-Latinxs on screen, and in Hollywood.
Joe Arroyo
Joe Arroyo is an Afro-Colombian music icon. Starting out in the group Fruko y sus Tesos, in the '70s, Arroyo eventually went solo, and is known for the classic salsa jams "Rebelion," "La noche," and "En Baranquilla me quedo."
Ana Barbosa
Afro-Brazilian model Ana Barbosa is definitely one to watch. The Minas Gerais native has modeled for houses including Christian Dior, Prada, Givenchy, Loewe, and Erdem. She also just landed her first magazine cover in December on Grazia UK.
Danay Suarez
Latin Grammy-nominated artist Danay Suarez is an Afro-Cubana R&B singer and rapper, whose work lives within the genres of hip-hop, bolero, reggaeton, jazz, and world music. She is featured on Karol G's album Ocean, on the song "Yo Aprendi," and collaborated with Stephen Marley, who sings for the first time in Spanish, on her album, Palabras Manuales.
Maluca Mala
Why you need to be obsessing over Dominican hip-hop artist Maluca Mala. http://t.co/4vupj5DqEA pic.twitter.com/O5i7zNenXU

— Cosmo For Latinas (@CosmoForLatinas) July 8, 2014
https://www.instagram.com/p/Bq8GWByFTTz/
One of the newer rappers on the scene is Maluca Mala, born Natalie Ann Yepez. Washington Heights raised her, but her roots are all Afro-Dominican. Her music surfs along with the genres of experimental tropical punk, electro, ghettotech, and hip house. Maluca's debut EP, released in 2009, is entitled El Tigeraso, and in 2016, she dropped the single, "Mala."
Arturo Schomberg
Arturo Schomburg, born in Puerto Rico to a mother from St. Croix, and a German father, was told by his teacher that there was no black history, no black achievements, and no black heroes. He knew that was not true, and spent his life researching and sharing proof of Afro-Latinx and African-American excellence.
Toto La Momposina
You can't mention Afro-Colombian music without including Totó la Momposina. The singer, born Sonia Bazanta Vides, has been representing her African and Indigenous background through cumbia and bullerengue music since the 1950s. Some of her well-known songs include "Prende la vela," "Yo me llamo cumbia," and "El pescador."
John Carlos
Tommie Smith & John Carlos pic.twitter.com/DjPVyjIEJ0

— Herc F Baby. Please say the baby. (@Herc3Nice) July 23, 2020
At the 1968 Olympics, two men, Afro-Cubano John Carlos and African-American Tommie Smith raised their fists to demand justice (Peter Norman wore an Olympic Project for Human Rights badge in solidarity with Carlos and Smith). The photo of the two, raising the Black Power salute (which Smith called a "human rights salute") became iconic.
Rosario Dawson
Puerto Rican and Cuban New York native Rosario Dawson is an actress who appeared on the show Sesame Street as a child. She went on to star in a slew of films, including He Got Game, Men in Black II, and Sin City. Dawson received the Satellite Award for Best Supporting Actress in a Motion Picture for her work in Rent. On top of her work in movies, television, and more, Rosario Dawson remains a face in Hollywood, and the mainstream, representing a woman of several different backgrounds. She continues to give a lot of girls someone to identify with and look up to.
Sen Dog
Latinx rap group Cypress Hill were honored with their own star on the Hollywood Walk of Fame last year. The South Gate, L.A. hip hop trio, who has sold over 20 million records, includes Afro-Cuban rapper Sen Dog (born Senen Reyes). The group set themselves apart when they first hit the scene in the '90s, rapping in both English and Spanish, and were the first Latin-American rap group to go platinum and multi-platinum in the U.S.
Yumileidi Cumbá
Yumileidi (also Yumisleidis) Cumbá Jay won the gold twice for Cuba. The first time was at the 1990 Havana Olympics, in the discus throw event. The second, was in Athens in 2004, in shot put. The athlete also won a silver medal in Havana in the shot put competition.
Arlenis Sosa
A lot of models move to New York and struggle to get consistent work. Not Afro-Dominicana Arlenis Sosa. When she arrived in New York, she was signed on the spot. During her first week in the city, Anna Wintour selected Arlenis to attend the biggest fashion event of the year — the Met Gala. Two weeks after being signed, she shot editorials for Vogue.
Sessilee Lopez
Afro-Dominican model Sessilee Lopez-Holmes made history in 2008 when she appeared on one of the four covers of Vogue Italia's All Black issue. She has also graced the cover of Harper's Bazaar, walked in several fashion shows, including Victoria Secret, Vivienne Westwood, Lanvin, and Oscar de la Renta. She has posed for ad campaigns, including those for Hermes, Levi's, Lanvin, and Gap.
Mariah Carey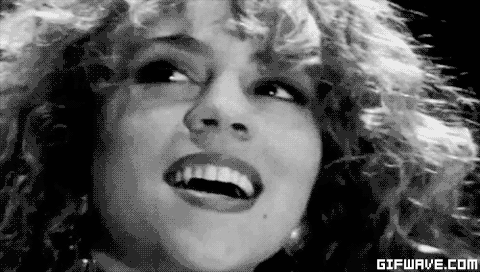 It's pretty cool that a woman with one of the greatest voices of all time is an Afro-Latina. Born in Huntington, New York, Mariah Carey, who has a five-octave vocal range, has had 18 #1 hits in her career so far. Mariah also has the longest-running number one hit of all time, "One Sweet Day," which topped the chart for 16 weeks (it is now tied with "Despacito."). She has won five Grammys and has been nominated for 34, and is one of the best-selling female artists of all time.
Judy Reyes
Actress Judy Reyes was born in The Bronx. For over 20 years, her face has been a constant reminder of Latino identity. Some of the shows the Afro-Dominicana has appeared in include Scrubs, Law & Order, New York Undercover, Oz, Devious Maids, and Claws.
Prince Royce
Caught up pic.twitter.com/GmgHKpi7YV

— Prince Royce (@PrinceRoyce) July 16, 2020
Another Latinx music artist who hails from The Bronx is Dominicano Prince Royce. The singer/songwriter, who creates jams in the genres of bachata, R&B, and Latin pop, has been honored with tons of award nominations and wins. This includes nine Latin Grammy Award nominations, 18 Billboard Latin Music Awards, nine BMI Awards, two Soberano Awards, 16 Premios Lo Nuestro awards, and a La Musa Award from the Latin Songwriters Hall of Fame.