Fashion
29 'In Living Color' Fly Girl Fashion Moments We're Still Feeling
From 1990 to 1994, the sketch comedy show In Living Color was making us laugh with its hilarious take on pop culture, society, and current events. But the beginning of the show, and what served as a musical intermission, was all about the Fly Girls. These ladies, among them celebs Carrie Ann Inaba and Jennifer
From 1990 to 1994, the sketch comedy show In Living Color was making us laugh with its hilarious take on pop culture, society, and current events. But the beginning of the show, and what served as a musical intermission, was all about the Fly Girls.
These ladies, among them celebs Carrie Ann Inaba and Jennifer Lopez, delivered all the best, latest '90s dance moves — choreographed by Rosie Perez — all while dressed in the trendiest, coolest clothes (thanks to costume designer Michelle Cole). Since all things '90s are on-trend right now, and have been for a while, we wanted to celebrate these multi-cultural ladies and their badass fashion, with a breakdown of their iconic style. And, of course, we are including where you can shop each throwback item today!
Bodysuits
A very '90s garment that was worn on In Living Color by the Fly Girls is the bodysuit. It allowed the ladies to dance while still maintaining the look of a sleek top tucked into pants, shorts, or a skirt. The bodysuit is one of the 1990s pieces that have come back in style in the 2010s, and beyond.
Where to Buy: Fashion Nova Melinna Long Sleeve Bodysuit, available at fashionnova.com, $24.99
Velvet
Another thing you'll see pop up on Fly Girl fashion quite a bit is velvet. During the '90s, this fabric added a luxe touch to clothing, accessories, and shoes. And based on the '90s revival, it's not going anywhere soon.
Where to Buy: Dolls Kill Nighttime Nonsense Velvet Crop Top, available at dollskill.com, $45
Striped Pants
A 2020 trend that was also a 1990s trend is the vertical striped pants (and stripes in general). The style shown here on the Fly Girls is high-waisted and belted into a paper bag style, but you can rock vertical stripes in a silhouette that works best for you.
Where to Buy: boohoo Black and White Stripe High Rise Mom Jean, available at boohoo.com, $46
Chokers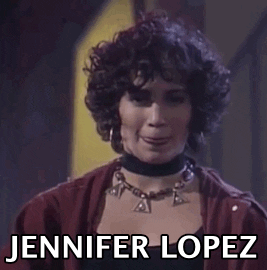 Chokers are a major '90s trend that has made its way back into the latest fashion. After a small pause, the snug-fitting necklaces are back, and bolder than ever. In fact, you'll see many chunky, gold-link chokers everywhere, like the one worn by Jennifer Lopez on In Living Color.
Where to Buy: Windsor So Extra Chain Link Necklace, available at windsorstore.com, $13.90
Lace-Up Boots
Another chunky accessory from the '90s  you'll see everywhere for 2020 is the lace-up boot. The Fly Girls wore these statement shoes during several of their performances, and they give edge to everything, from feminine skirts and dresses, to casual jeans and shorts.
Where to Buy: Timberland 6-Inch Premium Waterproof Boot, available at nordstrom.com, $169.95
Crop Tops
The Fly Girls rocked many a crop top. They donned short blouses, bustiers, sports bras, and cropped tees. The style usually was to wear them with baggy, belted jeans; belted slacks; biker shorts; and the like.
Where to Buy: ASOS DESIGN long sleeve square neck crop top in stripe, available at asos.com, $19
Hoops
Gold hoops are a mainstay in our jewelry box, but the '90s really embraced the earrings, and they're currently having a fashion moment now as well. The bold earrings just add that attitude, edge, and style to any outfit they're worn with, while also serving as a neutral, go-with-anything accessory.
Where to Buy: Target Large Hoop Earrings – Wild Fable™, available at target.com, $6
'90s Jeans
Thankfully, in the '90s, the jeans were baggy enough to really dance in. The Fly Girls wore high-waist, light denim, sometimes cuffed as seen here, and belted for extra style.
Where to Buy: BDG High-Waisted Mom Jean – Light Wash, available at urbanoutfitters.com, $59
Bustier Tops
Selena wasn't the only stylish chica wearing bustier tops during the 1990s. The Fly Girls were also in on the trend, wearing everything from full-length bustiers, to the cropped ones, to more of the decorative bra-style version.
Where to Buy: Lulus Electrifying Love Black Bustier Crop top, available at lulus.com, $32
Body-Con Dresses
It wouldn't have been the '90s without tight, body-con dresses that showed off every curve. The Fly Girls definitely were in on this trend, and wore snug dresses in all sorts of colors and styles. The classic scoop neck body-con dress is a definite wardrobe staple that be worn alone, or as a chic layering piece.
Where to Buy: City Chic Plus Size Body-Con Tank Dress, available at nordstrom.com $69
Gloves
The Fly Girls would wear gloves, both opera length and short, to add sass and style to their various outfits. They were especially fun in pops of color like purple. With all the '90s clothing that is back in style, you can opt to add some gloves for an unexpected, feminine touch.
Where to Buy: BABEYOND Long Opera Party 20s Satin Gloves Stretchy Adult Size Elbow Length 15 Inches, available at amazon.com, $8.99
Leggings
Legging are everywhere, and for good reason. The stretchy pants that everyone also rocked in the '90s, including the Fly Girls, are super comfortable, sleek, and go with just about everything. The Fly Girls, as seen above, would dare to wear printed leggings to add some detail and interest to solid and mostly-solid blazers.
Off-the-Shoulder Tops and Dresses
Whether it was in chic black, or a more-is-more floral print, the '90s featured tons of off-the-shoulder tops and dresses. These would be worn as is, or layered under vests for some layered cool.
Where to Buy: White House Black Market Floral Burnout Off-the-Shoulder Blouse , available at whitehouseblackmarket.com, $26.99
'90s Hats
Accessories were a huge part of the 1990s aesthetic, and the first things many people grab today to recreate particular throwback looks. One major '90s accessory is the hat, and there are a lot to choose from. The Fly Girls were wearing pretty hats with a big flower in the front; newsboy hats; bucket hats; and the 5-panel hats cyclists wear, with the brim up.
Where to Buy: FLUFFSHOPVINTAGE 90s Art Student Purple Velvet Slouchy Parisian Artist Beret – New w Original Tags, available at etsy.com, $20.94
Shorts
Stylish shorts allowed the Fly Girls to be on trend, plus have room to do those amazing dance moves. Probably the most comfortable and sporty are the OG biker shorts, but there were also other shorts, that were belted for extra style.
Where to Buy: Target Women's Bike Shorts – Colsie™ Black, available at target.com, $10
White Ruffle Blouses
Any fan of '90s fashion should own a feminine white, ruffled blouse. It's perfect for both Selena style, and Fly Girls-style, as you can see by this gif. And, any white blouse a closet staple that can be worn with so many different bottoms!
Where to Buy: TOV See-Through Ruffle Trim Blouse, available at nordstromrack.com, $56.97
Bold Belts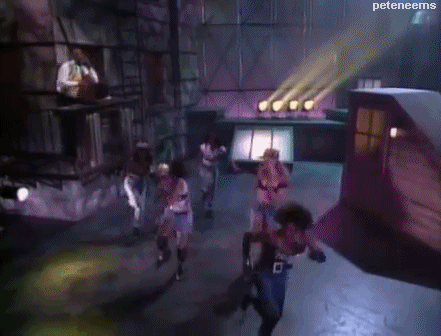 It wasn't just because the jeans were often roomier back then; you threw a belt on jeans, shorts, and whatever else when you wanted to instantly make it bolder and badder. There were belts galore on In Living Color, and they always added to the Hip-Hop '90s glam aesthetic.
Where to Buy: Forever 21 Faux Leather Grommet Belt, available at forever21.com, $9.99
Skater Skirts
https://giphy.com/gifs/animated-color-living-TS6zOqKarTyKs
The Fly Girls also wore skater skirts (short circle skirts), which they would layer over biker shorts. They would wear the top and skirt in the same hue or pattern, creating a matchy-matchy look in a fun color. Other times, a black skater skirt anchored a bright top.
Where to Buy: boohoo Basic Micro Fit & Flare Skater Skirt, available at boohoo.com, $8
Embellished Corsets
Corsets instantly create a cinched waist, and a sexy, feminine look to whatever you throw it over (even the basic white tee). The Fly Girls would rock embellished corsets over their tops, and were still able to bust a move.
Where to Buy: ASOS DESIGN corset tie detail waist belt in black, available at asos.com, $24
'90s Oxfords
Another shoe the Fly Girls opted for during their stylish performances were '90s-style oxfords. Back then, these often came in black patent leather and may have had a chunky sole, depending on your preference. An added touch was to wear them with organza, satin, or grosgrain ribbon shoelaces.
Where to Buy: Dirty Laundry Miles Platform Oxford Women's Shoes, available at dsw.com, $44.98
Socks, Tights, and Black Nylons
Hosiery was an important finishing touch for many outfits during the 1990s. As for the Fly Girls, brightly-colored scrunched socks (sometimes two pairs, layered), black sheer nylons, black fishnets, and over-the-knee socks secured with suspender clips all made outfits more interesting and very on-trend.
Where to Buy: ASOS DESIGN 3 pack neon ankle socks, available at asos.com, $10
Oversized Jackets
Bright '90s colors–check. Oversized '90s silhouette–check. The Fly Girls were definitely always wearing the latest fashions and acting as trendsetters for their millions of viewers. Just look how these coats add a look-at-me pop of color to white tops and jeans.
Where to Buy: ASOS DESIGN oversized parka in bright blue, available at asos.com, $95
'90s Athleisure
Biker shorts, boxing trunks, brightly-colored sweats, sports bras, knee pads, sneakers. The Fly Girls were doing athleisure before the term was even coined. But of course, they were also being athletic, dancing and doing kicks and flips to the high-energy '90s jams.
Where to Buy: PrettyLittleThing Orange Basic Gym Sweat Jogger, available at prettylittlething.us, $35
Suspenders
https://giphy.com/gifs/color-pictures-living-3ONE2VRuBE7Ze
Want to instantly add a dose of '90s Fly Girl style to a top worn with pants? Add some suspenders, and even dare to wear them backwards! It's a big of throwback menswear added to the ladieswear.
Where to Buy: George Terry 1.5 inch Suspender, available at walmart.com, $3
Headbands, Hair Bows, and Other Hair Accessories
We told you that accessories in the '90s were a major thing! To complete their looks, the Fly Girls would often wear colorful headbands, hair wraps, bows, and scrunchies. And, most importantly, they rocked their natural curls!
Where to Buy: Claire's Hot Neon Hair Scrunchies – 3 Pack, available at claires.com, $1.99
Bright Colors
Probably the most recognized, and copied Fly Girl aesthetic is the use of bright colors (just check out Cardi B and Bruno Mars "Finesse" video). It's the easiest way to add some Fly Girl swag into your look, and you can go as tame as a bold, bright accessory, all the way to color blocking neons.
Where to Buy: Cross Colours Flag Logo Black, Green & Yellow Color Block Crop T-Shirt, available at zumiez.com, $35.99
Pearls
Pearls were such a major part of the 1990s (Prince, Selena, the Fly Girls, etc.), and have been on-trend for several seasons now. And they're also so very classic, which makes buying anything pearl-related a wise investment.
Where to Buy: QTKJ Mutiple Trendy White Dangling Pearl Earrings, Large Long Faux Pearls Drop Stud Earrings, available at amazon.com, $6.99
Moto Jackets
Motorcycle jackets are another classic, you'll-wear-it-forever piece to have in your wardrobe. And they were part of the Fly Girls' fly looks. You can splurge on a luxe version, or nab a faux leather (or other fabric) one that still has the same swag.
Where to Buy: Levi's Women's Faux Leather Asymmetrical Belted Motorcycle Jacket, available at amazon.com, $33.47 – $91.91
Menswear Slacks
While you're buying those baggy, light denim '90s jeans, why not throw in some '90s roomy slacks? They were also a mainstay of the decade and looked perfect against tiny tops and sweaters, vests, and of course, blazers. Throw in some suspenders over the tops for a cool, throwback look.
Where to Buy: ASOS DESIGN wide-leg pants with pleat detail, available at asos.com, $40