Just over a month ago, I got married. It was a joyous, wonderful day that resulted from a — here's the important part — planned elopement. Never heard of a "planned elopement?" Well, here's the gist: According to The New York Times, eloping does not mean what it once did. While in the past, eloping meant getting married in secret (usually because your family didn't approve of the person you were marrying), these days eloping is more about having a simple, small wedding without the hoopla and the months of planning. And yes, without spending an average $35,359.
The planned elopement (like the one I had) is all about keeping things stress-free, which is one of the reasons why more and more couples are choosing to go this route. After you've gotten engaged and talked to your fiancée about all of the important things, it's time to decide: Do you want to spend money on a big party or do you want to use it elsewhere? Although a planned elopement is not for everybody, it can definitely be the right choice for a lot of couples. Here are 11 things that you need to know about the planned elopement and how to still have one AH-mazing day  —  even if it's just the two of you.
Eloping means a lot of different things these days.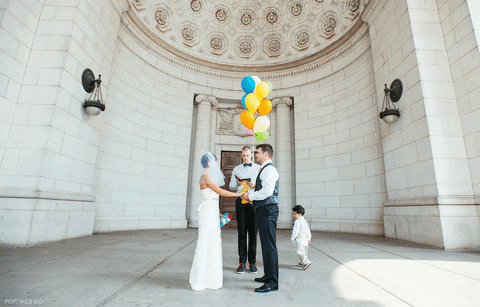 Sure, eloping can happen the good old fashioned way (in secret) because your families just don't get along. But eloping can also happen because you want something simple and discreet. The nice thing about eloping is that people automatically know that you want a no-fuss wedding and don't tend to let you stress over the details. While it might still include some planning (and it might not), eloping means that you can basically do whatever you want and — more importantly — leave out whatever you don't want.