While growing up, there were a handful of Latinas, who we would see on T.V., hear on the radio, and learn about through pop culture, who served as not only style and beauty icons, but also role models. We wanted to look like them, act like them, and be like them. Let's take a look at 11 of these Latinas, who represented us to the masses, and gave us someone from our own culture to look up to. 
Paulina Rubio
Most streamed albums | Spotify 15/11/2020 @PaulinaRubio

1. Deseo (2018) – 167,651,142
2. Paulina (2000) – 128,268,333
3. Ananda (2006) – 70,349,793 pic.twitter.com/nM1Vt2rXYy

— Paulina Rubio Charts (@ChartsPauRubio) November 17, 2020
Known as "La Chica Dorada," everything Paulina Rubio has touched has turned to gold. She was in the teen pop group Timbiriche, then left for a successful solo career, in which she has sold over 20 million records worldwide. Paulina has starred in novelas such as Baila Conmigo, and was a judge on The X Factor, La Voz Mexico, and La Voz Kids. Her bold personality, fearless attitude, and feminist diva persona are both empowering and inspiring to Latinas everywhere.
Selena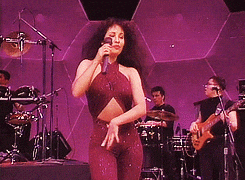 Photo: GIPHY
Selena Quintanilla Perez is a legend. She was an incredibly talented singer, performer, actress, fashion designer, and entrepreneur. Most importantly, her heart was as big as her talent. Because of her popularity, she could have been "Hollywood" or stand-offish. Instead, Selena was kind, gracious, and down to earth, proving that even the biggest stars still keep their feet on the ground.
Jennifer Lopez
Photo: GIPHY
When Jennifer Lopez became a superstar, dominating the English-language airways and starring in hit movies, she made it popular to be a Latina, in all its forms. She made a curvy body "in" again, showcased her unique urban-meets-glam fashion, and let everyone know she was a proud Puerto Rican from the Bronx. When she was celebrated, we were celebrated. Years later, she still is that girl, reminding the world that Latinas are fabulous.
Tatyana Ali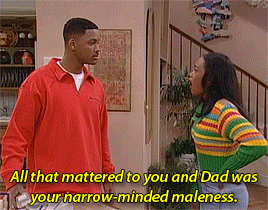 Photo: GIPHY
Tatyana Ali is the Latina we looked up to in the '90s who could –and did – do it all. As a kid, she was on the iconic Sesame Street, then Star Search, before landing her most memorable role of Ashley Banks on the mega-hit, The Fresh Prince of Bel-Air. Ashley Banks was a fashionable, privileged, and educated young woman of color, who was also woke to issues in society. She didn't hesitate to let anyone know her opinion. Tatyana is also a singer, who had a hit with 1998's "Daydreamin'." The album the song appeared on, Kiss the Sky, was certified gold.
Lucero
Lucero's impact is such, the 1st Telenovela Star/Host/Singer to be the recipient of the Outstanding Achievement in Hispanic Television Award in 2015 given by the Broadcasting, Cable, and Multichannel News during their Summit In New York. Showing the World why she's an ICON #TBT https://t.co/WzID1C0mO4 pic.twitter.com/R9wlaAgYkd

— LUCERO POP LIVE (@lunfer4ever) June 13, 2019
Lucero is known as "La Novia de America" – the Latina version of America's Sweetheart. She has been known since childhood, having appeared in the kid's television show, Alegrias de Melodia. Since then, she has been in countless novelas (in 2013, People En Español named her "The Queen of the Telenovela") and films; has hosted shows, including the Latin Grammys; and has sold millions of records as a singer. She was always the reminder that a good, wholesome girl could still be a star, without scandal, or hypersexualizing herself.
Rosie Perez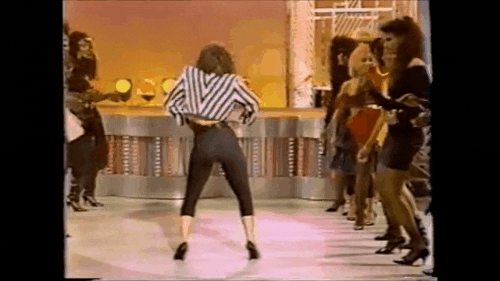 Photo: GIPHY
Rosie Perez was another Latina who slayed in different artistic areas. She appeared as a dancer on the show Soul Train, and later was the choreographer for In Living Color, for which she was nominated for three Emmy Awards. Perez was also a choreographer for Janet Jackson, Bobby Brown, and LL Cool J. As an actress, Rosie Perez was nominated for an Academy Award for Best Supporting Actress for her role in Fearless, appeared in movies such as Do The Right Thing and White Men Can't Jump, and television shows like 21 Jump Street. She has also acted on Broadway, in a revival of The Ritz.
Lynda Carter
Beautiful Lynda Carter as Diana Prince/Wonder Woman in Wonder Woman 1975-1979. pic.twitter.com/DeyxUuYcPz

— Masquerade (@Masquerade2376) November 16, 2020
I mean, who didn't want to be Wonder Woman?! The role that Lynda Carter made famous involved the ultimate feminist. She was beautiful, strong, independent, powerful, believed in what was right, and was able to take on anyone – man or woman. She made us believe we could be superheroes, and that we didn't need any man to save us, because we can save ourselves.
Rosario Dawson
Rosario Dawson was another actress who appeared on the show Sesame Street as a child. She went on to star in a slew of films, including He Got Game, Men in Black II, and Sin City. Dawson received the Satellite Award for Best Supporting Actress – Motion Picture for her work in Rent. On top of her work in movies, television, and more, Rosario Dawson remains a face in Hollywood, and the mainstream, representing a woman of several different backgrounds. She continues to give a lot of girls someone to identify with and look up to.
Mariah Carey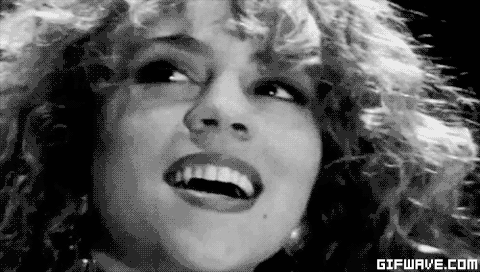 Photo: GIPHY
It's pretty cool that a woman with one of the greatest voices of all time is a Latina. Mariah Carey, who has a five octave vocal range, has had 18 #1 hits in her career so far. Mariah also has the longest-running number one hit of all time, "One Sweet Day," which topped the chart for 16 weeks (it is now tied with "Despacito."). She has won five Grammys and has been nominated for 34, and is one of the best-selling female artists of all time. When Mariah first came out, her naturally curly hair was a major part of her image, letting many of us curly-haired ladies know that it's perfectly fine to rock the hair we were born with.
Thalia
Thalia – Piel Morena pic.twitter.com/adR9bxIuHC

— Virginia Avila (@vikyavilamoreno) January 26, 2016
Thalia was the face most of us grew up seeing on Spanish television. She became a global star after starring in popular novelas like Maria Mercedes and Marimar. After also being part of the teen group Timbiriche, Thalia went on to sell millions of records with hits, including "Piel Morena;" and was known for her beauty as much as her trendy style (including the blonde streak she sported in her hair).
Christina Aguilera
Work mode. pic.twitter.com/a8Y6akyWol

— Christina Aguilera (@xtina) November 11, 2020
Christina Aguilera was the pop star that was the pride of Latinas everywhere. She has a powerhouse voice that is undeniable and topped the charts with hit after hit. Some of her number one songs include "Genie in a Bottle," "Lady Marmalade," and "Dirrty." After starring on the squeaky clean Mickey Mouse Club, and following the accepted pop look, she embraced her sexuality, style, and a more risqué image, telling other girls it was ok to do the same.