15 Famous Latinxs Who Hail from New York
September 21 is National New York Day, where we celebrate the state that gave us hip-hop, Broadway, the best bagels and (arguably) pizza in the nation, chicken and waffles, teddy bears, toilet paper, hot dogs, air conditioning, frozen hot chocolate, and so many other things
September 21 is National New York Day, where we celebrate the state that gave us hip-hop, Broadway, the best bagels and (arguably) pizza in the nation, chicken and waffles, teddy bears, toilet paper, hot dogs, air conditioning, frozen hot chocolate, and so many other things.
And of course, there are endless notable people who emerged from the Empire State and made a huge difference around the world. On this special day, we would like to celebrate them in particular.
So we selected 15 Latinx celebs who were born in New York and proceeded to make it there, and then make it everywhere (shout out to Frank Sinatra and his iconic song "New York, New York"). These women and men have reached great heights in their selected careers in politics, music, acting, and sports.
Whether or not we are too native New Yorkers, we are proud Latinxs who are grateful for their achievements, accomplishments, and influence.
Jennifer Lopez
On this day in 1969, Jennifer Lopez, actress and pop singer (Selena), born in The Bronx, New York @JLo pic.twitter.com/7WaWbQgPR1

— 50+ Music (@50years_music) July 24, 2020
Jennifer Lopez made it known out the gate that she was Jenny from the Block, and proud AF to be from The Bronx. The Nuyorican has repped her city while winning numerous awards, winning a Golden Globe, shutting down the red carpet, being the first Latina actress to get more than a million dollars for a film, and being the first singer/actress to have both a #1 movie and #1 song in the same week.
Prince Royce
Good Morning @PrinceRoyce 🤍 pic.twitter.com/00RovrjT91

— Кᥲɾo✨ (@KarolinaRojass) July 28, 2020
Another Latinx music artist who hails from The Bronx is Dominicano Prince Royce. The singer/songwriter, who creates jams in the genres of bachata, R&B, and Latin pop, has been honored with tons of award nominations and wins. This includes nine Latin Grammy Award nominations, 18 Billboard Latin Music Awards, nine BMI Awards, two Soberano Awards, 16 Premios Lo Nuestro awards, and a La Musa Award from the Latin Songwriters Hall of Fame.
Christina Aguilera
Look how powerful she is, legendary powerhouse vocalist, an icon, of course, that's Christina Aguilera. pic.twitter.com/qsw55FFhug

— Fighters latinos (@fighterslatam) July 26, 2020
Christina Aguilera is known for having one of the best singing voices on the planet. Did you know the Ecuatoriana is a Staten Island native? The native New Yorker has sold a whopping 75 million records and has won five Grammy Awards, cementing her status as an iconic Latina diva.
Fat Joe
Fat Joe pic.twitter.com/vwh70mwbrl

— HIPHOP📸IN📸PICTURES™️®️ (@allinhiphop) July 27, 2020
Another New Yorker who lets it be known in his songs where he's from is Fat Joe. The South Bronx native is Nuyorican and Cuban and has been releasing rap albums since 1993 (look for the upcoming Family Ties this year!). In addition to rapping, Joe is a songwriter and actor who has appeared in at least eight films.
Sonia Sotomayor
Today in History
July 28th
20009 – The Senate Judiciary Committee approved Judge Sonia Sotomayor to be the U.S. Supreme Court's first Hispanic justice, over nearly solid Republican opposition. #OTD pic.twitter.com/BFQosY5T5J

— Connie Landro (@clandro) July 28, 2020
Nuyorican Sonia Sotomayor became the first Latina to be appointed a Supreme Court Justice in 2009. In fact, she is the first Latinx or Hispanic person ever to hold the position. Sotomayor is another example of how a lot of Latinx excellence has emerged from The Bronx!
Marc Anthony
Nice photo of @MarcAnthony and his kids Arianna, Cristian & Ryan with @BarackObama . ❤👨‍👧👨‍👦‍👦 pic.twitter.com/CpjuRa0Vpy

— @palabrasdelalma_usa (@Palabrasdelal16) July 22, 2020
Arguably the King of Salsa, Nuyorican Marc Anthony has made a career out of pairing his powerhouse of a voice with highly-danceable salsa music. Born Marco Antonio Muñiz, Marc has been in the music game for over 30 years, selling over 12 million albums worldwide, and holding the title of best-selling tropical artist of all time.
Carmelo Anthony
Born in Brooklyn, Afro-Puerto Rican Carmelo Anthony is a basketball star who has three Olympic gold medals and has been an NBA All-Star 10 times. He is the son of a Nuyorican father with Venezuelan descent and an African-American mother. His wife LaLa Anthony is a Puerto Rican actress, entrepreneur, TV personality, producer, and author.
Rosie Perez
Afro-Puerto-Rican Rosie Perez is one of the first people you think about when you think of Latinxs from New York. The Bushwick, Brooklyn native appeared as a dancer on the show Soul Train, and later was the choreographer for In Living Color, for which she was nominated for three Emmy Awards. Perez was also a choreographer for Janet Jackson, Bobby Brown, and LL Cool J. As an actress, Rosie Perez was nominated for an Academy Award for Best Supporting Actress for her role in Fearless, appeared in movies such as Do The Right Thing and White Men Can't Jump, and television shows like 21 Jump Street.
Lisa Lisa
Lisa Lisa: Music that puts a smile on your face https://t.co/bQ7Cv1RDW2 pic.twitter.com/2qtjD4hu5F

— Dallas Voice (@DallasVoice) June 7, 2019
Lisa Lisa and the Cult Jam is another big part of freestyle music. Headed by Nuyorican Lisa Velez, the New York-based group, which also included Mike Hughes on drums, and Alex "Spanador" Moseley, had some great hits during the '80s and '90s, including "Lost in Emotion," and the ballad "All Cried Out." Lisa Lisa has since been a major source of orgullo Latinx, a visible Latinx face in popular music we saw growing up.
Judy Reyes
https://www.pinterest.com/pin/738097826417752809/
Actress Judy Reyes was born in The Bronx. For over 20 years, her face has been a constant reminder of Latino identity. Some of the shows the Afro-Dominicana has appeared in include Scrubs, Law & Order, New York Undercover, Oz, Devious Maids, and Claws.
Mariah Carey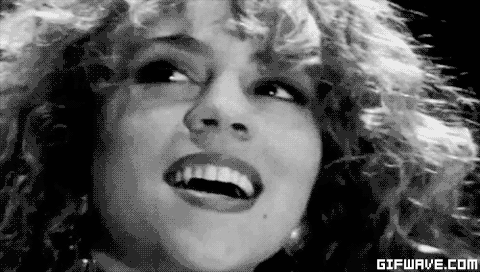 It's pretty cool that a woman with one of the greatest voices of all time is an Afro-Latina. Born in Huntington, New York, Mariah Carey, who has a five-octave vocal range, has had 18 #1 hits in her career so far. Mariah also has the longest-running number one hit of all time, "One Sweet Day," which topped the chart for 16 weeks (it is now tied with "Despacito."). She has won five Grammys and has been nominated for 34, and is one of the best-selling female artists of all time.
Lin-Manuel Miranda
Hey @ucancallmesis we got our shirts! Thank you for all you do!https://t.co/aOFHPoq1W1 pic.twitter.com/AkItxWLdPM

— Lin-Manuel Miranda (@Lin_Manuel) July 15, 2020
Born in Washington Heights, Nuyorican and Mexican Lin-Manuel Miranda has taken the world by storm with his massively successful Broadway musicals Hamilton and In the Heights. Wearing many hats, including those of composer, playwright, rapper, songwriter, and actor, the Latinx has won several awards and recognitions, including a Pulitzer Prize, an Emmy, three Grammys, the Kennedy Center Honors, an Academy Award nomination, and two Olivier Awards.
Alexandria Ocasio-Cortez
It's not easy to be a trailblazer. Bronx-born Nuyorican Alexandria Ocasio-Cortez, however, has made it all look easy. Before becoming the youngest woman ever to serve in Congress, Alexandria Ocasio-Cortez was breaking records. The year 2018 marked the first primary for New York's 14th Congressional District in 14 years. Alexandria was also the only Democrat to run with no lobbyist, the first Democrat to make it onto New York's 14th Congressional District ballot with 100% volunteer effort (no one was hired), and the first POC to run for the post in a generation.
Rosario Dawson
Puerto Rican and Cuban New York native Rosario Dawson is an actress who appeared on the show Sesame Street as a child. She went on to star in a slew of films, including He Got Game, Men in Black II, and Sin City. Dawson received the Satellite Award for Best Supporting Actress in a Motion Picture for her work in Rent. On top of her work in movies, television, and more, Rosario Dawson remains a face in Hollywood, and the mainstream, representing a woman of several different backgrounds. She continues to give a lot of girls someone to identify with and look up to.
Cardi B
Bronx native Cardi B stepped on the scene and almost overnight took the world by storm. Born Belcalis Marlenis Almanzar, the Afro-Dominican-Trinidadian rapper first made a name for herself for showing off her honest and in-your-face attitude on her Instagram account and later on the reality show, Love & Hip Hop: New York (from 2015-2017). Cardi was making music before dropping the 2017 hit single, "Bodak Yellow," but the jam, however, put her on the map, and helped make Cardi B a star. Since then, the Dominicana has been racking up awards, breaking records, and is starring alongside fellow Bronx girl J.Lo in the film Hustlers.