We've been anxiously waiting for Jennifer Lopez and Cardi B to drop their highly anticipated single "Dinero" for months. The two had been teasing the track, which also features DJ Khaled, for what seemed like forever but now it's finally here and just in time for summer!
Lopez tweeted the release of the song earlier this morning and even included a link to various places where you can listen to it. It's on everything from Apple Music, Spotify, Tidal, iTunes, Google Play, Deezer, Sound Cloud and more. In other words, everyone can listen to it.
My new single #DINERO ft. @djkhaled and #CardiB is available NOW!!!💰💰💰(Link In Bio) pic.twitter.com/ern2GVNJIW

— jlo (@JLo) May 17, 2018
https://www.instagram.com/p/Bi4L7fHlL8w/?hl=en&taken-by=jlo
The track has also already triggered a ton of buzz online—especially on Twitter. But I'm talking hours before the track actually came out. Before J.Lo even announced the release, fans were on Twitter emotionally and mentally preparing themselves for the drop. These people were not playing games.
#Dinero is coming omg hold my wig pic.twitter.com/pULstZpfQC

— mickey (@dutchessdeluxe) May 16, 2018
Me when #Dinero comes out by JLo pic.twitter.com/D2hzJ1f5Vw

— Saint (@SaintGabino) May 17, 2018
When Cardi said "Two bad bitches that came from the Bronx" I LIVEDDDDDDDD 🙅🏿‍♀️🙅🏿‍♀️🙅🏿‍♀️🙅🏿‍♀️🙅🏿‍♀️ #Dinero I live for JLo and Cardi omg 😩😩😩😩

— Fanta (@wanta_fanta_) May 17, 2018
The song is super catchy and upbeat. I'm telling you, it's the kind of song that will easily become everyone's favorite summer jam. No wonder they took so long to get it out—they were clearly working to make it a hit.
After hearing this song 5 times already—yes, I've been playing it on loop—I'm now ready for the music video. And trust me, there is defintely a music video coming. There are even a few video clips of J.Lo, Cardi B and DJ Khaled together on what appears to be a set, that proves it. If you think Twitter is shook now, wait until this video drops.
https://www.youtube.com/watch?v=PRME1u3JbZQ
https://www.youtube.com/watch?v=jNUSY8YrSNI
I think what I love the most about this collaboration is the fact that two powerful and successful Latinas from the Bronx were able to come together to create a track that's literally going to be the most talked about song of the summer. Seriously, how dope is that? If that's not empowering—I don't know what is.
I'm so ready for it!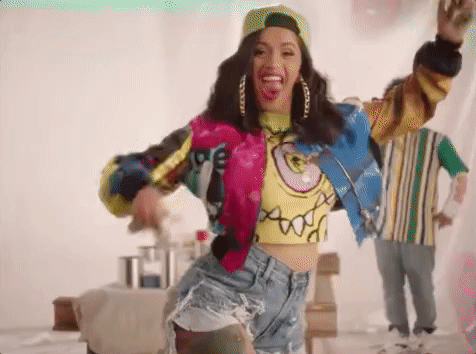 Check out the single below and get ready to have that song on repeat—all season long.