Laurie Hernandez Shuts Down Body Shamers By Creating A Body Positive Clothing Line
It's safe to say that Laurie Hernandez became a household name after the 2016 Summer Olympics in Rio
It's safe to say that Laurie Hernandez became a household name after the 2016 Summer Olympics in Rio. We were all transfixed as she executed the balance beam routine that won her the Silver medal and we were all cheering as the beautifully diverse US girls gymnastic team took home the gold. Laurie went on to Dazzle us with her impeccable moves yet again when she joined and won Dancing With The Stars. But of course, in typical fashion the trolls came out to play, and the years of work Hernandez and her teammates took to craft bodies that can do back flips on a 4-inch piece of wood became the target of body shaming. Proving that you can literally win a gold medal and still have men wonder why you weren't thinking of how to make your body appealing for them throughout the process — I call it the Serena Williams effect.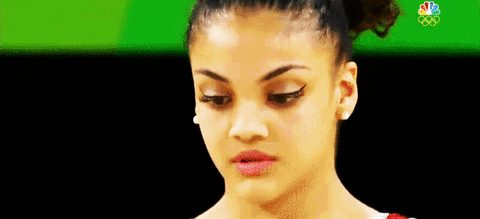 The pressure young girls feel to appeal to the male gaze is disturbing, the media is constantly bombarding women and girls with hypersexualized femininity that negatively affects their mental, emotional and mental well being on a massive scale. It's something not even the most elite athletes are immune to, but it is something Hernandez feels deserves attention.
"I think it's important to promote healthy body images, especially to the tweens and teens because they're constantly influenced and looking for inspiration. (social media, online, in magazines, etc.) That's why it's so important to give them an image that's realistic so they can feel confident about themselves" she told HipLatina. It's no secret that Gymnastics is a sport known for its strict guidelines and expectations of what competitors bodies should look like with an emphasis on "girlieness." In 1992 the Gold and Silver medalists weighed less than 75 lbs— puberty was the enemy and for a long time gymnasts would have to retire by 16. It's a body preference that is also quite counter to the robust bodies women of color have naturally— they would actually be judged more harshly for being curvy!
Hernandez's first competition was at 16, so as the focus on the "international look" (aka being skinny) slowly fades, powerful elite athletes are allowed to look like, well, powerful elite athletes. It sends a powerful message to young women and girls about positive body image and about what is possible with self love and discipline.
Hernandez has taken it further than simply calling out trolls on twitter, now she's teamed up with JCPenney's Obsess brand to create a body positive clothing line for teen and tween girls of every shape and size. The line features fresh floral prints, pastel hues, cute tops, as well a bomber jacket Hernandez says is her favorite piece in the line. But the overall focus is cute comfort, something Hernandez says is inspired by her off time when her body changes as a result of less time in the gym and more time being a normal teen.
As Hernandez told HipLatina, "The inspiration behind my partnership was definitely body positivity. Throughout gymnastics, perfection is something that every gymnast looks for; and when I saw my body change, it was something I had to get used to. Self-love is important! Also, every day I'm more drawn to fashion; especially casual wear. That's why this line means so much to me!" She also shared some of the ways she practices self care "taking time off and eating healthy are two ways to self-care. Sometimes spending a night in and resting might be what you need to be prepared for the rest of the week. Also, fueling your body can make you feel happier, and give you more energy to keep moving forward. Self-love isn't selfish!"
It's advice that might seem like common sense but really, how many of us actually sleep enough and eat healthy? Exactly. When I asked her what advice she had for how young women and girls could ignore the haters and be happy with themselves, her response was short and sweet "I used to worry a lot what others thought about me. Now, I think about what makes me happy, and how I feel about any situation. Your opinion about yourself matters! Stay true to yourself." Amen, sister! You can check out her fashion for girls here, the line will be available in 500 JCPenney Stores and online. Sizes go from 7 to 20.