We've been noticing for years now the obvious shade Mariah Carey has thrown at Jennifer Lopez. But even Lopez had no clue as to why Carey has had beef with her in the first place? We all assumed it was just straight up hating but Carey finally cleared up the chisme once and for all and her response was more or less what we'd expect her to say.
Carey's beef with Lopez has been such a thing that it's even turned into hilarious memes and GIFs. But in a recent profile with Pitchfork, Carey cleared up the whole "I don't know her" shade against J.Lo and how it all began. She swears up and down that she didn't mean to throw any shade at all.
https://giphy.com/gifs/american-idol-qy5WwSYfr7Rvi
"I really was trying to say something nice or say nothing at all. I really was," she explained while also admitting that she straight up just "embraces" all of the GIFs and memes fans have created making fun of her.
Carey claims she wanted to put an end to the rumors because she's not about the drama. "I try to stay away from it because you can't drown in that," she said. "I don't know how people read comments all the time and then survive."
It's just funny because Carey admitted in 2016 to Andy Cohen on "Watch What Happens Live!" that she's just forgetful. "Apparently, I'm forgetful," she said. "It wasn't like I don't know who she is—of course, I do. That's not the question."
Meanwhile, Lopez perfectly remembers all the encounters she's had with Carey. "She's forgetful I guess!" Lopez said political to E! News. "We've met many times. I don't know … I don't know her that well."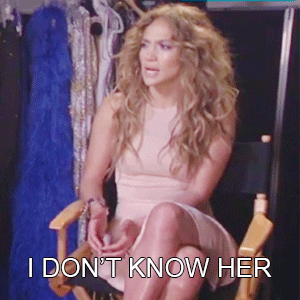 Regardless, it's fair to say that whatever beef—or jealously—she might have had towards Lopez is pretty much squashed at this point. Maybe they'll actually have a conversation and exchange some laughs about it in person one day. Or maybe Jada Pinkett Smith will invite them on an episode of "Red Table" to talk and cry it all out. But until then, let's just move on. There's really nothing to see here people.