10 Fun Facts About 'Selena' in Honor of the Film's 25th Anniversary
Selena Quintanilla-Perez was only 23 years old when she was killed in 1995 but she made such an impact as the Queen of Tejano music that a biopic was released just two years after her death solidifying her status as an icon
Selena Quintanilla-Perez was only 23 years old when she was killed in 1995 but she made such an impact as the Queen of Tejano music that a biopic was released just two years after her death solidifying her status as an icon. Selena was directed by Gregory Nava and it stars Jennifer Lopez as the beloved singer along with Edward James Olmos and Constance Marie as her parents, Abraham and Marcella.  The film highlighted her iconic style, sensational voice, and incredible performances and was made in collaboration with her family so it's been praised for its authentic portrayal. In honor of the 25th anniversary of the film's release we're rounding up some fun facts about the making of the movie including the only time Lopez actually sings in the film.
Chris Perez actually played the guitar in the film
Image: giphy.com
Chris Perez only visited the set once to perform several guitar riffs for the movie. In one scene, actor Jon Seda, who played Chris Perez in the film, was seen rocking out during his audition but what we don't see is that those hands were actually Chris's hands playing the guitar. Chris shared some footage on his Facebook page and wrote, "Wow, this was the ONLY time I actually went on the set of the Selena movie to check it out…and they got me to do this."
Jennifer Lopez didn't sing any songs during the movie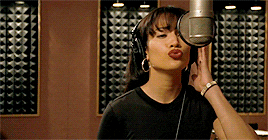 Image: giphy.com
Spoiler alert: Jennifer Lopez didn't actually sing in the movie. In fact, she only sang the first three lyrics of "Como La Flor" in one of the movie's main scenes. Throughout the movie Lopez lip-synched to Selena's voice per the family's request to keep her voice in the film. And although we don't hear Lopez's real voice, according the Entertainment Weekly, she had to undergo an intense screen test that included "nine minutes of singing and dancing and eight pages of script."
About 21,000 women auditioned for the role of Selena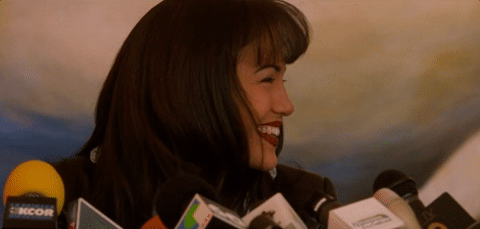 Image: giphy.com
Roughly 21,000 women across the United States auditioned for the part of Selena. In an interview with Coming Soon, director Gregory Nava said "we had all these auditions. 21,000 people auditioned for that film, which was the biggest search in the history of cinema for an actor to play this role." In the end, casting narrowed it down to six women for the role before Lopez was selected.
Jennifer Lopez slept in Selena's bed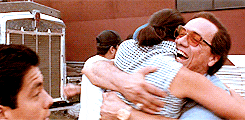 Image: giphy.com
Jennifer Lopez spent some quality time with the Quintanillas prior to filming. In fact, she got really close to Suzette, Selena's sister. "We just hung out," said Suzette in an interview with ET. Aside from getting to know the family and watching endless home videos and interviews of Selena, Lopez actually slept in the late singer's bed as part of the process of developing her role.
Jennifer Lopez called Selena her mentor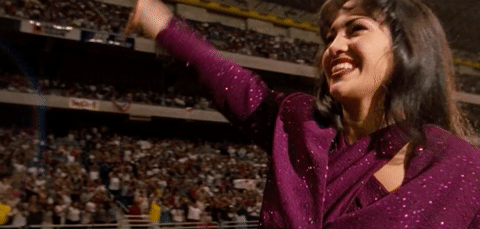 Image: giphy.com
Jennifer Lopez has credited her success to Selena and the impact portraying her in the film had on her own music and acting career.. In an interview with NBC News, Lopez said "it was a great thing for her to be my mentor in a way and teach me so much about how to navigate this business." She went on to say that if Selena were still alive, she would be in Lopez's position and that the role of Selena played an important part in her life and continues to influence her music career.
Constance Marie was only four years older than JLo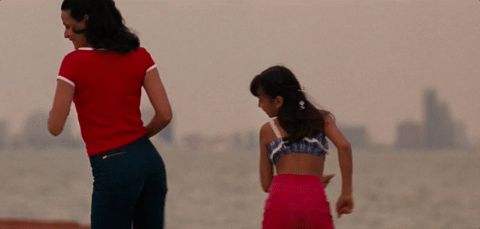 Image: giphy.com
Lopez was only 27 years old during filming and Constance Marie, the actress who played Selena's mom, was only four years older than Lopez. Marie told We Love Soaps that she would spend four hours getting her makeup done so she could look older than her on-screen daughter.
Salma Hayek turned down the opportunity to play Selena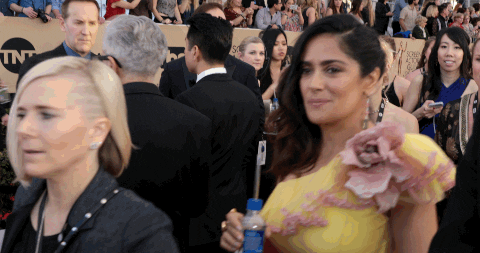 Image: giphy.com
In an episode of Watch What Happens Live with Andy Cohen, Salma Hayek confirmed that she turned down the role of Selena. "Yes, they offered it [the role] to me like a week after she died," Hayek said. She felt uncomfortable with how quickly things were moving after Selena's death. "It was a little bit distasteful," Hayek told Cohen, "they were already planning on making this movie."
JLo was paid $1 million for the role
Image: facebook.com
Jennifer Lopez was paid $1 million for the role which made her the highest paid Latina actress in the entertainment industry at that time. The movie also earned  $35 million at the box office, and was made with a budget of $20 million. 
Fans protested JLo's casting because she's Boricua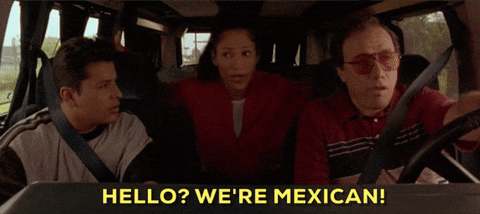 Image: giphy.com
Jennifer Lopez faced backlash when Selena fans found out she would play the leading role of their favorite star because she's Puerto Rican and Selena was Mexican American. Protesters believed that New York native Lopez was the "wrong kind of Latina" to play Texas-born Selena. In 1996, Lopez told Entertainment Weekly, "I know a few people were protesting, but in Corpus [Christi, Tex., Selena's hometown] everyone has been really supportive." Nava also had to fight for the studio to allow a Latina to play the role since the studio. wanted a non-Latina.
The role of Selena inspired Jennifer Lopez to become a singer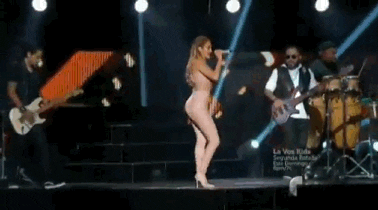 JLo is now one of the most successful Latinx singers in the world and she credits her dream of becoming a singer to her role as Selena. She told Billboard, "It had a lot to do with it — all those performances. I sang in musicals before but as part of a cast, never as a solo artist upfront or a recording artist. It made me realize, 'Don't neglect parts of yourself and let people put you in a box because you're an actress. You can do this, and you can also do that. Life is short, and you don't know what's going to happen. Go for your dreams and don't let anyone hold you back.'"