Believe it or not, Bradley Cooper actually had a case of the nerves before getting on stage and performing "Shallow" on Sunday night alongside his costar Lady Gaga. You would have never guessed that considering how impressive and insanely intimate that performance was. But apparently, our girl Jennifer Lopez hit up with some advise beforehand.
"He seemed a little nervous," Lopez said in an Instagram Live with her boyfriend Alex Rodriguez Sunday night. "I just whispered, I said, 'The song is so beautiful. When they hear the first few notes, they're going to start applauding. So don't worry. Just deliver the song.' He was like, 'I got it, I got it, okay.'"
Um, as someone who has been not just enjoying but OBSESSING over that "Shallow" performance, I have to admit I am impressed. Not just by the performance obvi but by the fact that J.Lo took the time to give her possible ex (yes, rumor has it Bradley and J.Lo casually dated briefly once) some really good advice before his performance. Oh and it gets better. For those who never got a chance to check it out — like me — a Star Is Born — is returning to theaters with new music and 12 minutes of extra footage. I legit almost lost my shit when I learned of this. People are so thirsty for this film, it's music, and just straight up Lady Gaga and Bradley Cooper content that it's actually getting an encore run. I mean, when does that ever happen?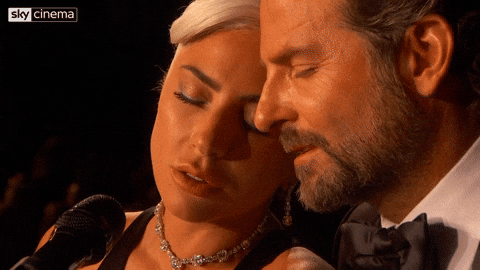 Okay, I'm not going to give Lopez all of the credit here because that would be cray especially considering that encore run was obviously planned in advance. But let's be real for a second, that performance was pretty mind-blowing. If you saw Gaga and Bradley's Vegas performance a few weeks ago — which was great by the way — it had nothing on that Oscars performance. So maybe, just maybe Lopez's advice really did make a bit of a difference — at least a tiny one. Who knows, but the fact that she played a part in this very mega performance that folks are STILL talking about definitely has me smiling.