Valentine's Day, a day where we express love for our BAE, friends, or family members with chocolates, gifts, and declarations of love and appreciation on social media. Whether we are celebrating with a quarantine date night in or opting to honor it as "Galentine's Day" or even Singles Awareness Day, it's still worth doing a little something for those you love (or yourself!). This year we've teamed up with Souliminati founder and astrologer Esoteric Esa, to help us align our V-day plans with what the stars have in store for us. Here are fun ways to spend your Valentine's Day during a pandemic, according to your Zodiac sign.
Aries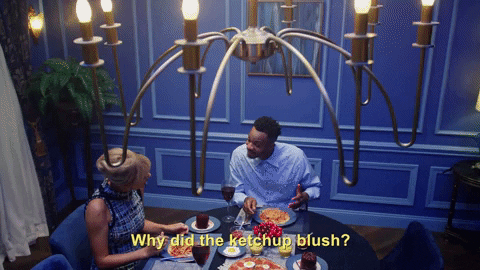 Aries don't mind taking the initiative and going after what (or who) they want. However, they do enjoy when BAE takes the lead and plans a little sopresa. These action-oriented leaders enjoy exciting experiences and aren't afraid to act on impulse.
Single: You're usually on-the-go but this quarantine has slowed you down quite a bit. If you're still unsure about leaving your apartment, try some DIY project on Pinterest. Invite your closest friends to a virtual Galentine's fest and enjoy a glass of wine while bedazzling tote bags or doing a rom-com watch party with charcuterie.
In a relationship: You're basically the one who always plans V-day but this year, let your boo set everything up. Make sure you give them a heads up though, no one is a mind reader. So just sit back, relax, and enjoy the love coming your way.
Taurus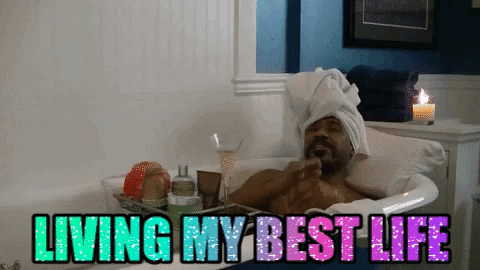 GIF via Giphy
Taurus is la reina de los five senses so she loves to have a full-on sensory experience. Since her love language is usually materialistic she enjoys gifts and good food. The ruling planet of Venus makes them a little bad and a little bougie.
Single: Don't try to force Valentine's plans on your friends. You'll probably have a better day by pampering yourself. Enjoy a nice bubble bath then cozy up on the couch with some good wine and your Amazon account. Hello V-day specials!
In a relationship: Normally you have BAE take you to dinner at the fanciest restaurant in town because why not? But this year, with COVID and all, take the pressure off and enjoy something more low-key. Dinner at a local restaurant (outdoors and socially distant of course) and a movie night at home or maybe a virtual cooking class with the requisite wine.
Gemini
GIF via Giphy
Gemini are extremely curious people and get bored easily. Being an air sign, they like to keep others on their toes, but want to be kept on their toes as well. This Valentine's Day, plan something unexpected, try something new and out of the ordinary. Think less dinner and movie and more karaoke night.
Single: Being the curious human that you are, you are probably talking to more than one guy on a variety of  dating apps. But if there's one guy that you have been feeling particularly drawn to these days, don't be afraid to reach out. Try some virtual karaoke or wine and cheese in the park.
In a relationship: Try and take your commitments to the next level this Valentine's Day, which can be hard since you want something different every five seconds. Plan something out of the ordinary for you and your partner, like planning a V-day themed scavenger hunt or a hike on a trail with a great view.
Cancer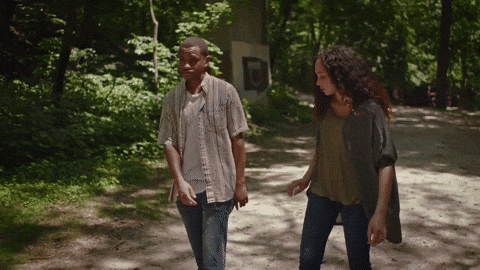 GIF via Giphy
Cancer enjoys comfort and security. They are homebodies with generous hearts and enjoy going out of their way for others, but always expecting something in return. They are true romantics at heart but they are easily overwhelmed by experiences with too much energy and people.
Single: Since you are a homebody, you probably love this whole stay-at-home order since it's not really any different than your life pre-pandemic. You do, however; miss your friends. Schedule a Zoom hangout with the "squad" and play some fun V-day inspired games or binge watch Bridgerton (for obvious reasons).
In a relationship: Even if things are starting to open back up, you'd rather not venture too far from home. Try something different while still keeping six feet away from other people. Plan a hike or stroll through your favorite neighborhood or organize a picnic date at your favorite local spot.
Leo
GIF via Giphy
This sign is fire. Leo is a social butterfly and loves to be the center of attention. If you ignore them, you can expect things to go south real quick. They are confident individuals who aren't afraid to be different or try out experiences that most people would find intimidating. They are very passionate and need a partner who isn't boring.
Single: You're probably tired of all the virtual happy hours. But you're a person who love attention. So get dressed up and take pictures for Instagram as if your real Valentine's Day plan weren't canceled. Start an IG Live and get your girls to do a fashion show for your followers.
In a relationship: It may be difficult to make a reservation at your favorite restaurant this year but you and your partner will have way more fun by going out of your comfort zone. Plan a glamping weekend in the desert or do the TikTok craze and go to the store, close your eyes, walk through pointing at products until your partner says stop; whatever you end up with your have to eat/drink/watch.
Virgo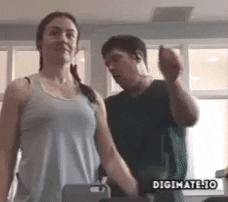 GIF via Giphy
Being an Earth sign, Virgos needs some grounding energy in their life because their ruling planet of Mercury keeps them in their head. It's best that a Virgo blocks out their entire day to focus on their significant other. Otherwise, their minds will wander and anxiety will kick in. It is rare that Virgos find time for themselves.
Single: You usually have a schedule to stick to. It's rare that you are able to just get  off of work and relax, your mind is always racing. This Valentine's Day, try some "me time" and pamper yourself with a nice massage or mani-pedi.. If spas are open in your area, make an appointment and be sure to ask about all of their COVID guidelines.
In a relationship: Every year you need to have the "perfect" Valentine's Day. But you don't live in a movie. You need to remind yourself that a perfect Valentine's Day is one where you and your significant other enjoy a meal and each other's company. Focus on each other in the moment and leave everything else for tomorrow. Try a nice stroll to a local juice bar or the aquarium (outdoors) or sign up for a fun couples workout.
Libra
GIF via Giphy
Everyone knows Libra is the shopaholic of the Zodiac. They can spend hours on the hunt for a good bargain. They are inspired by Venus, which makes them willing to spend any dollar amount it takes to attain happiness through objects the admire most. Libras are incredibly giving people are aren't afraid to splurge on their BAE.
Single: Now is the time to step away from the bargain sites and spend some energy on beautifying your space. You have so many  pretty things from all that shopping, so spend Valentine's Day turning your home into an oasis. Just think of all the cash you'll save!
In a relationship: You usually spoil your partner on Valentine's Day. Lavish gifts and impossible dinner reservations are just some of the ways you show your partner how much you love them. This Valentine's Day, call one of your favorite local restaurants and arrange for them to set up a private table in their outdoor patio. Purchase some balloons or flowers and set up the table ahead of time, if the restaurant will let you.
Scorpio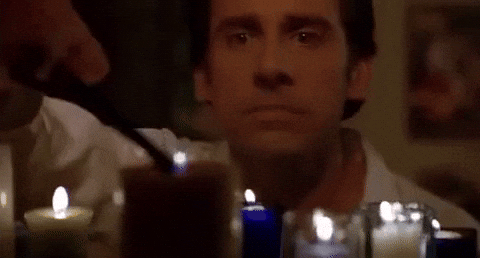 GIF via Giphy
Scorpios like to keep things mysterious. This is what makes them fun! They are definitely erotic and don't mind fulfilling their partner's deepest desires in and outside of the bedroom. If they aren't getting enough attention, they can become easily jealous.
Single: You might be bored this Valentine's Day but someone may pop up and spark your interest. Don't spend your day thinking about whether or not someone has potential, just focus on having fun. Invite that potential love interest (or your bestie) to some coffee or take an evening walk and watch the sunset.
In a relationship: Don't be too mysterious this Valentine's Day. Let your partner know what you want and have them plan a romantic dinner. You prefer plans for just the two of you because it creates the intimate experience that you crave. So have your partner plan something quiet and relaxing at home. Adding some candles and romantic music would be a big bonus.
Sagittarius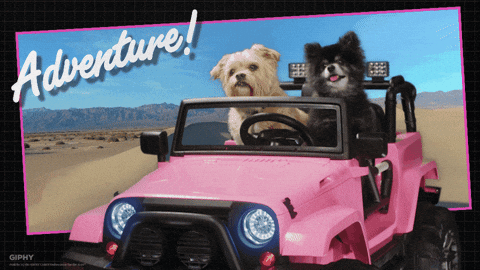 GIF via Giphy
Sagittarius are the adventurers of the Zodiac. They are full of life and have big personalities. They are extremely active individuals and enjoy sports or dancing; whether that is participating in or heading out to a sporting event.
Single: You love to party and travel, so chances are you're pretty bummed about not having an exciting Galetine's Day/V-Day this year. If you've already hiked every trail in your city, go an an adventure of the mind. Sign up for an online or outdoor yoga class or try to meditate in the park. That way you can learn how to let go of that FOMO.
In a relationship: You and your partner tend to attend a sporting event or do outdoorsy things on Valentine's Day. But with COVID, all games are on TV and you've both probably bought every Groupon for outdoor activities. This Valentine's Day have fun and  sign up for a virtual art class or plan a day trip to a cool outdoor site you haven't been to before.
Capricorn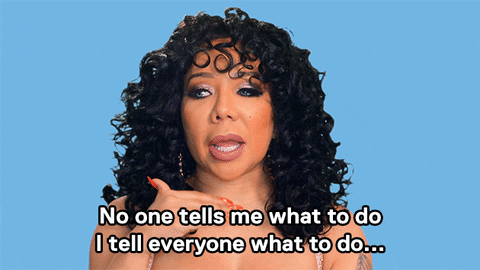 GIF via Giphy
Don't tell a Capricorn what you're doing until an hour before it's go-time because they have a need for control and will ask a million questions in order for them to have a full understanding of what's happening. Capricorns are usually the ones who plan everything out and take charge of the group's outing. They enjoy being in groups and being entertained by a wide variety of people.
Single: The only way you'll get through this COVID V-day is to give yourself a break and do things because you want to, not because it's on your to-do list. Write down a list of things you would like to do for yourself in the future or spend some time writing in a journal then soak in the bath, turn on the Calm app and give yourself a much needed day of rest.
In a relationship: You're most likely the one who plans the romantic date every year and if it doesn't go as planned, you probably freak out. Give you and your partner some relief by just going with the flow. A challenge for you would be to not have anything planned and see where the night takes you.
Aquarius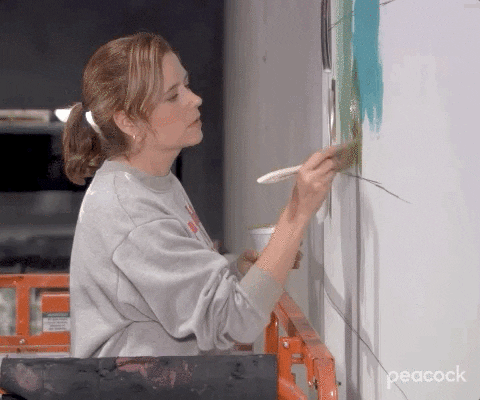 GIF via Giphy
Aquarius is a quirky individual. They don't expect much however; they take their affection from family and friends very seriously. They are very connected to art and music. You can impress then by thinking outside the box and trying something new.
Single: You love supporting local business and volunteering in your community. Sign up for a socially distant event that supports a good cause or attend a virtual event that raises money for your favorite charity.
In a relationship: Communication is key in your relationship. Use this Valentine's Day to learn more about your partner. Plan a quiet dinner and give each other time to talk, maybe get those cards with prompts for conversations to get to know each other better. Don't be afraid to ask tough questions.
Pisces
GIF via Giphy
Pisces are the sensual lovers of the Zodiac. They want undivided attention and good conversation. They're not impressed by grand gestures because they are invested in personality over materialistic things.
Single: You are pretty chill. Spend this Valentine's Day going deep into your spiritual realm with your crystals and essential oils. Develop a spiritual practice that will keep you grounded throughout the day and the rest of the year.
In a relationship: You enjoy a classic dinner and good glass of wine. So order some takeout and stop by your local grocery store to buy your favorite wine. After dinner, attend an outdoor music gig or poetry reading or tune in to a cool V-Day virtual event.